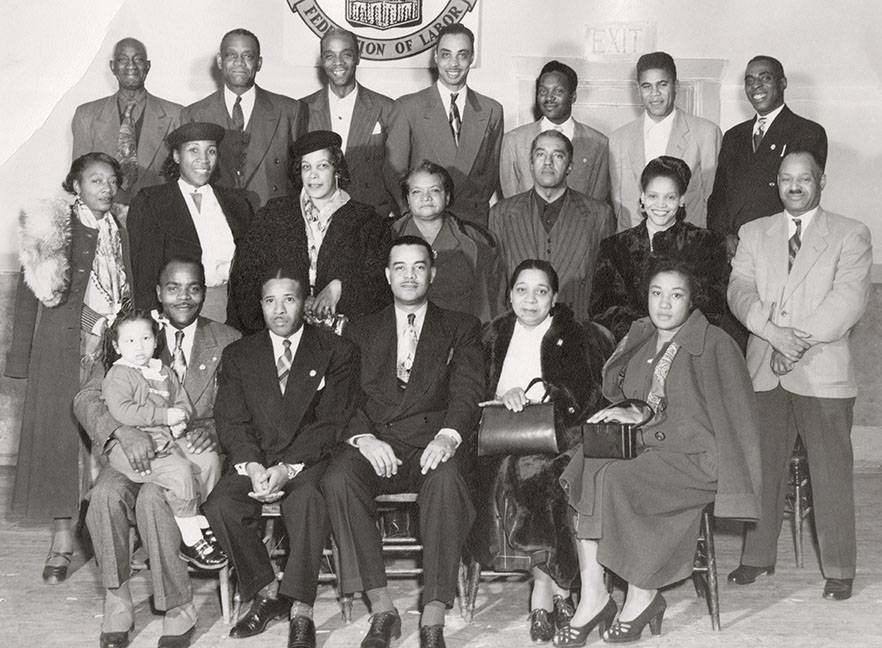 Click on a name below to go to the Interview Page for a videoclip and transcript
Tarik Accord
Somalia-born Tarik Accord worked in several cleaning firms. Injured on the job at one of them, she helped form a union at Bee Clean and served as a union steward, emphasizing education of members regarding their legal rights with regards to occupational health and safety.
Brian Alleyne
Arrived in Canada in 1969 with medical training from London, England and had to redo his postsecondary studies; Alberta's first epidemiologist; conducted Health & Safety research in Alberta's meatpacking plants. President of Cariwest for a number of years.
Aisha Amin
Journeyperson welder; she contributed her welding skills to the festival community for many years by producing large frames for the annual Cariwest street parade.
Pauline Cardinal
Pauline Cardinal fought wage exploitation through CUPE union advocacy and training.
Tanya George
Tanya George has made community health nursing, with emphasis on the relationship between family health and the health of entire communities, the focus of her nursing career.
Gwen Hooks
Black settler community in Breton, Alberta; became a teacher, and then principal of a special education school; president of a local Alberta Teachers' Association chapter; opened a museum in Breton.
Selwyn Jacob
Born in Trinidad, he came to Edmonton in 1969 to study drama and film production at the U of A; president of Cariwest; award-winning producer and director at the National Film Board of Canada, creating over 50 films and documentaries.
Deb Jamerson
From Winnipeg with roots in the Black settler communities of Amber Valley and Maidstone. Union activist helping to lead the struggle against discrimination in wages towards Black health care aides; opposed privatization of homecare in Manitoba.
Peter Jany
Peter Jany is a South Sudanese origin refugee in Canada who played a key role in the UFCW union organization campaign at Lakeside Packers in Brooks in 2004-2005.
Mohamed Kanu
Refugee from Sierra Leone who studied in Cuba before taking up residence in Red Deer. UFCW-appointed Safety Representative at a meat processing plant who upholds union advocacy and training.
Yvette Lynch
Born in Barbados, arrived in Calgary via Montreal. Worked as a laundry worker at the Calgary General Hospital and participated in the 1995 Laundry Workers Strike.
Cyriline Lynch-Parker 
Worked as a laundry worker at the Calgary General Hospital; union activist who participated in  the 1995 Laundry Workers Strike.
Wesley Mapp
Born in the Black settler community of Amber Valley. One of Alberta's first insulators, active as a union steward and focused on health and safety.
Sam Nuako
Sam Nuako is a Ghanian-born labour relations officer for UFCW who focuses strongly on diversity issues and on encouraging members to always speak up about their concerns.
Hazel Proctor
Of African-American heritage and strong community roots in AAACP and other organizations.  Highlights her father's Sleeping Car Porter's job as the best available for black men with women confined to cleaning and household employment in the 1950s and 1960s.
Cecile Sangster-Locker
Cecile Sangster-Locker is an RN and midwife who played important roles in all the nursing strikes in Alberta to date. 
Beryl L. Scott
Beryl Scott, RN, has been a lifelong advocate for equal treatment for marginalized groups within the healthcare system and society in general.
Beryl Stelmach
Jamaican-born English trained nurse who specialized in different areas of her field.  In Canada, employment was mainly federal – in hospitals and penitentiaries.
Constance Thomas
Constance Thomas is a veteran nurse, midwife, and UNA activist who has experienced many instances of racism in both her work and community lives, including denials of promotions at work.
Mojo Williams
Calgary-born gemologist and musician, was long-time grievance officer for the Alberta Association for the Advancement of Coloured People, beginning in the late 1960s. He dealt with cases that
included discrimination in housing, workplaces, schools, and nightclubs.