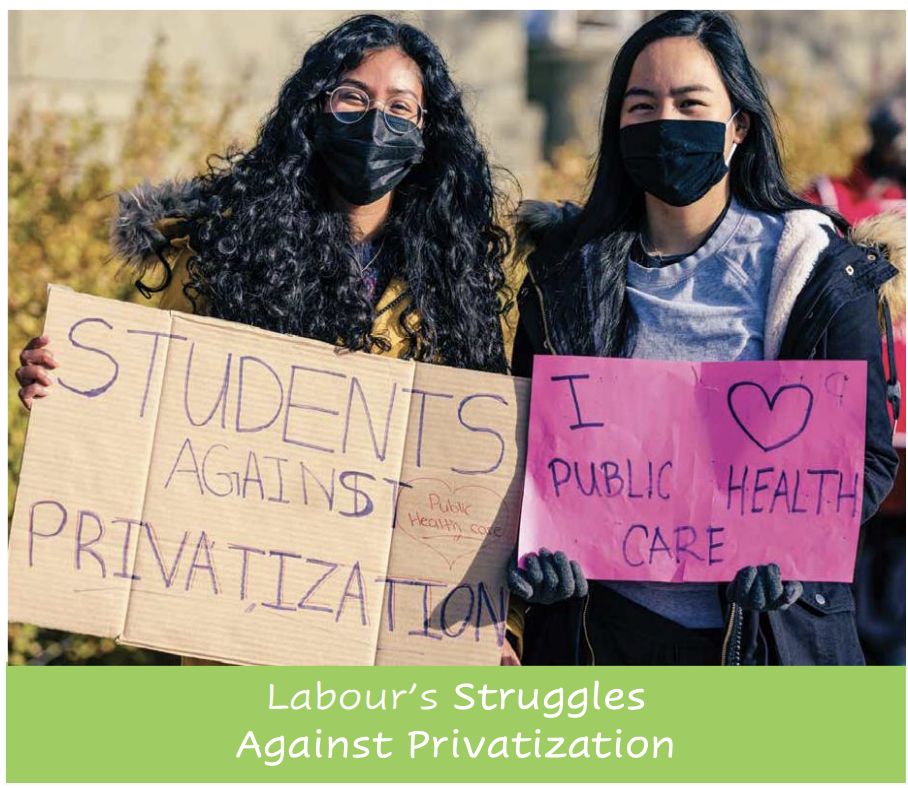 The theme for ALHI's 2023 calendar is "Labour's Struggles Against Privatization." Over the years, conservative governments in Alberta have privatized everything from liquor stores and Alberta Government Telephones to medical laboratories and surgical units. Apart from wanting to enrich their wealthy donors, their goal has been to weaken the overall trade union movement by reducing its public wing. The trade union movement has fought against efforts to reduce public services and to attack the rights of unionized workers in the public service. Our calendar provides an overview of both the conservative propaganda against public services and the trade union movement's responses, and then specific examples of the privatizations and their impacts on both the public and public sector workers.
The ALHI Calendar is more than just a calendar. It is a readable and condensed, but highly-accurate history of trade unionism and workers' struggles in Alberta. But it is also a top source of income for our 23-year-old Institute. Revenue from the annual sale of the calendar allows us to continue documenting, preserving and disseminating the stories that tell how working people have built and work through their unions to lead the fight for political, social, and economic democracy to the benefit of all working people in Alberta. While we receive some financial support from such other sources as grants from different levels of government, as well as arts and heritage councils, we rely on unions such as yours for our major source of funding.
For this reason, we hope that you and your organization continue to purchase and distribute these calendars to your members. They have proven to be an invaluable source of information about working people and their history, and the 2023 Issue is a particularly timely addition to this tradition.
The order form is here.
---
CAMPAIGN TO STOP DEPORTATION OF DANILO DELEON RECORDS AT LEAST TEMPORARY VICTORY
We reported earlier that Danilo DeLeon, chair of Migrante Canada, faced
deportation as an undocumented worker. Thanks to a campaign organized by
Migrante, which involved many other organizations and individuals, that
deportation has been delayed. Danilo will have an opportunity to
continue his efforts to apply for permanent resident status. But as the
link below reports, Migrante continues to fight for all workers in
Canada to enjoy a pathway to citizenship. Our link to Danilo's interview
with ALHI and our coverage that follows about the case of Evangeline
Cayanan provide background regarding the oppressive treatment of workers
that results from the Temporary Foreign Worker program and why labour
and human rights groups demand that the TFW system be replaced with a
policy that provides opportunities for citizenship for all who are
brought to Canada to work for employers.
MIGRANTE Canada's Statement on Danilo De Leon's Deferred Removal Order
ALL THEY WILL CALL YOU WILL BE DEPORTEE: THE STORY OF EVANGELINE CAYANAN
STOP THE DEPORTATION OF CANADIAN MCKENNA ROSE AND HER MOM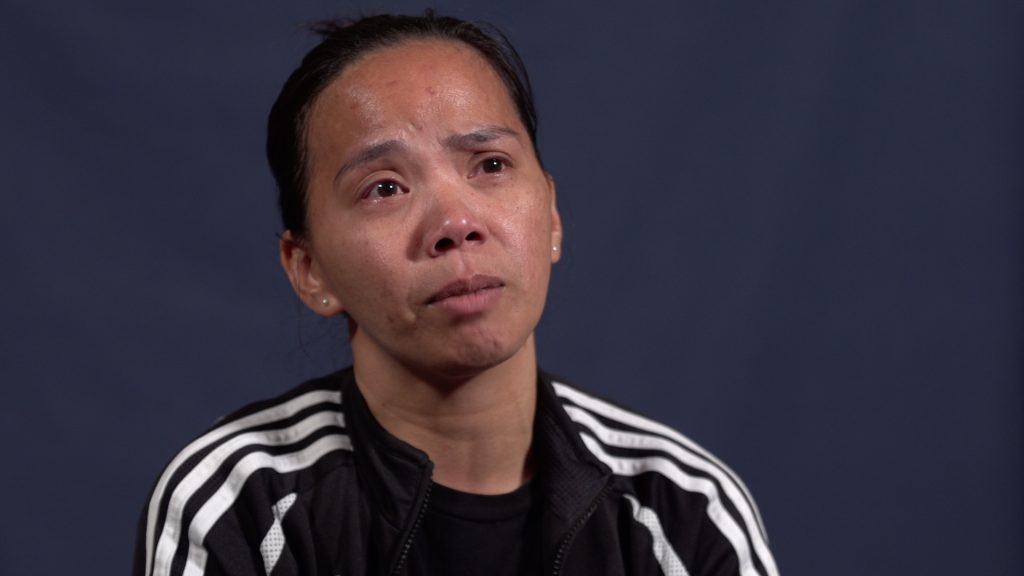 UPDATE JULY 6, 2022- – A VICTORY IN A CONTINUING CAMPAIGN FOR PERMANENT RESIDENCE FOR FOREIGN WORKERS IN CANADA
The scheduled deportation of undocumented migrant worker Vangie Cayanan and her daughter McKenna Rose has been deferred at least one year, according to her lawyer Manraj Sidhu. The campaign led by Migrante along with its network and supporters led to this change of heart on the part of the federal government. A video about Vangie created by ALHI videographer Don Bouzek in collaboration with Migrante Alberta has been praised by Migrante Alberta director Marco Luciano for having influenced media interest and public support in Vangie's cause.
Migrante also reports that the deportation of a Mexican family with a similar story to that of Vangie has also been deferred. Luis Ubando Nolasco, Cinthya Carrasco Campos, and their 8 and 9 year old daughters had been scheduled to be forced out of Canada on July 4. But the family chose to seek support during a Migrante press conference in June related to the plight of Vangie and McKenna. Migrante extended its campaign to include the Mexican family and are delighted that the immigration authorities have provided a temporary reprieve to that family as well as Vangie and McKenna Rose.
Migrante will continue to support the efforts of both of these hard-working families to achieve permanent residence status in Canada. They note with regret that despite promises by Prime Minister Justin Trudeau to create regularization programs to give status to undocumented migrants that a vicious series of deporations has occurred in the last year. "We will continue to be loud and fight for the rights of undocumented migrants. No one must be left behind" says Nova Porquia, the Vice Chairperson of Migrante Alberta. Migrante Alberta, along with other organizations with the Migrant Rights Network, is calling for an immediate and ongoing regularization program. That would include an immediate moratorium on detentions and deportations, inclusive criteria for permanent status, a user-friendly application process, effective communication regarding the program, open work permits for applicants for permanent status, an ongoing program for those who lose status after the mass regularization, and a promise to address the reasons why people might be losing their status. All of these issues need to be addressed by the government in consultation with migrants themselves.
We are reaching out to you to seek financial support for Vangie and her daughter McKenna. Faced potential deportation in July and is still not guaranteed permanent residence. Migrante is raising funds to help them establish themselves as legal residents of Canada.
Vangie is an active member of Migrante and staunch advocate of migrants' rights, especially undocumented migrants. She led Migrante's "McKenna Rose Campaign," a successful campaign that allows Canadian-born children of undocumented mothers to access healthcare. She is a recipient of the 2018 Human Rights Award presented by the John Humphrey Centre for Peace and Human Rights. During the height of the global pandemic in 2020 and 2021, Vangie was one of the team leaders in the "Serve The People Project", a project to support undocumented migrants through delivery of care packages and provision of different forms of assistance.
You may send your donations and messages of support to migrantealberta@gmail.com. Please put "For Vangie and McKenna" in the notes when you donate, or put the subject in your email message.
Thank you,
In Solidarity, Migrante Alberta Executive Committee
Migrante petition to allow Evangeline and McKenna Cayanan to stay in Canada

——————————————————————————————————————————————–
INTRODUCTION
Evangeline Cayanan faces deportation to the Philippines after 12 years of hard work at jobs that few Canadian-born people would perform for the wages and working conditions that she had little opportunity to protest. She would be returning with her her 5 year old Canadian-born daughter, McKenna, whose struggles with severe ADHD have been helped by Canadian programs that lack equivalents in the Philippines, a country which McKenna has never visited and whose language is unfamiliar to her. Evangeline came to Canada as a temporary foreign worker in 2010. Like many TFWs, she faced the horrors that attend a program in which each TFW is tied to a particular employer. If that employer violates the labour contract or the human rights of the employee, even if the violation is a sexual assault, a complaint by the employee generally results in dismissal by the employer and immediate deportation. Any chance of renewing the labour contract upon its expiration is dashed by insisting on being treated with respect for your human rights. In Evangeline's case, the effort to seek to stay in Canada without a new TFW employer contract has been continuously rebuffed for 7 years. In July, she has her last-chance hearing. If she and McKenna are deported, it will be a cruel demonstration of the willingness of the Government of Canada and ruthless employers to exploit workers from low-income countries with no pathway to citizenship as a reward.
There are as many as 500,000 undocumented workers in Canada. Evangeline Cayanan is only one of them. But it is important that we learn stories such as those of Evangeline Cayanan to understand the extent to which the Temporary Foreign Workers program and the whole concept of "undocumented workers" (TFWs whose contracts have expired but who remain in Canada to work and often to attempt to gain legal citizenship) creates capitalist super-exploitation of good people who contribute their labour willingly to Canada but are poorly compensated for their efforts. The stories of Danilo De Leon and Edeline Agoncillo, also on the ALHI website, are also very moving accounts of the lives of TFWs who have become undocumented workers.
Click here to read a profile of and two interviews with Evangeline Cayanan.
Click here to read other TFW-related interviews in the ALHI collection.