All Alberta residents need to be safe and secure during the pandemic, but public policy so far has forgotten our thousands of Temporary Foreign Workers and undocumented workers.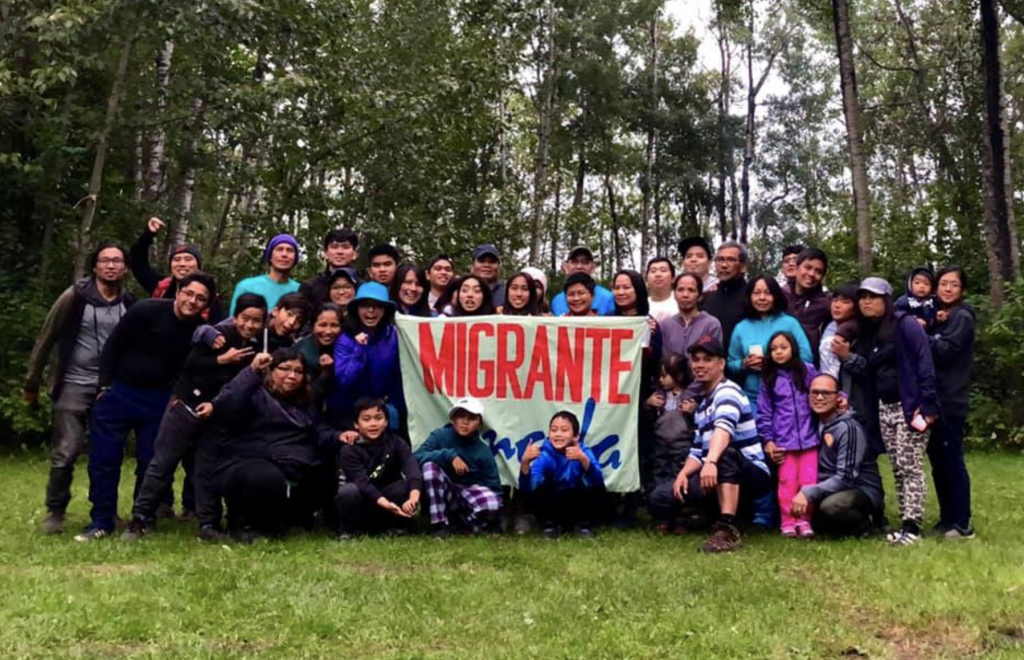 Alberta Gov't Urged to Provide Inclusive Healthcare during Pandemic
Meet Josie, a non-status single mom. She arrived in Alberta on November 2014 and worked as a food counter attendant. She lost her immigration status in 2017. That same year she gave birth to a healthy baby girl, Louise. She was charged over $5000 to give birth. With a baby and without a stable job, she struggled to make the monthly payments for that delivery. In the end a collection agency was sent to get the money. Josie continues to be hopeful for her daughter. "I have to work hard to provide and survive," she said.
There are many non-status moms like Josie in Alberta. They are trying to provide a normal life for their children. But it is difficult if they are having a hard time being a "normal" mom. Wherever they go to access services, even for her daughter, she's asked for a government-issued ID card. Her daughter does have a healthcare card but is ineligible for federal child benefits because her mom is non-status.
Covid-19 complicates the situation immensely for people like Josie. Ineligible for benefits such as EI and CERB, they must work. If they become ill, they cannot seek medical aid without risking deportation. They don't want to put themselves, their families, and Canadians generally at risk. But the social structures that we have established in Canada force them to do so.
Click the letter here and tell Alberta Health Minister Tyler Shandro that we need health care for all. Please do share the link to your friends and family.
Frontline Workers Are Demanding Healthcare for All
Over 125 frontline workers including doctors, nurses, social workers, educators and other healthcare providers have raised their voices urging the Alberta government to include everyone in its fights against corona virus disease (COVID-19), in a petition letter entitled "HEALTH CARE FOR ALL" led by migrant support and advocacy group Migrante Alberta. (LINK TO THE OPEN LETTER)
The letter, addressed to Alberta Premier Jason Kenney and health minister Tyler Shandro, highlights health coverage for those potentially vulnerable to the disease but without access to health care because of immigration status, the petition read.
The letter calls to ensure COVID-19 assessment centres have an explicit policy to be free and accessible to all, regardless of immigration status; to recognize that existing health care pathways such as community clinics and hospitals must be free and accessible to all people, regardless of immigration status, and work to remove barriers such as registration fees and bills, and implement appropriate staff training; to develop a clear and explicit public messaging campaign to inform people that assessment and care is available to all residents, without charge, at COVID-19 centres and beyond; and to ensure health coverage for all people in Alberta, including access to care for COVID-19.
Alberta's Chief Medical Officer Dr. Deena Hinshaw announced yesterday that anyone with the primary COVID-19 symptoms, which include a fever, cough, shortness of breath, runny nose or sore throat, in Alberta will now have access to testing.
Marco Luciano, director of the Filipino organization Migrante Alberta, however said that it is not clear if "anyone" includes even those who do not have current immigration status. "If the messaging is clear and inclusive, that would be the only time those in fear would feel comfortable to come out not only to access testing but also seek medical attention, if needed," he said.
The uninsured population include newly-landed permanent residents, some temporary foreign workers (TFWs), some international students, and undocumented residents. Calgary-based epidemiologist Dr. Mukararram Ali Zaidi said that during a pandemic, we should be able to provide free and accessible healthcare for all through community clinics and hospitals.
COVID-19 has become a public health emergency in Canada. There are deep concerns about these pre-existing barriers to health care for uninsured individuals in Canada, specifically in Alberta and the potential public health implications in the context of a pandemic. The group of health care providers and community members, call on all levels of government, health institutions, and public health leaders to act now to ensure care for everyone.
Calgary family physician Dr. Jillian Ratti stressed, "If we don't treat absolutely everyone, our public health response is weakened and endangers the lives of us all."
Luciano said that the "International human rights law guarantees everyone the right to the highest attainable standard of health and obligates governments to take steps to provide medical care to those who need it." He added, "Now more than ever, we need to ensure health care access is available to all in the time of COVID-19 pandemic."
Luciano said that most of the undocumented and uninsured migrants just fell through the cracks of the immigration system and politics despite all their efforts to comply with the requirements for permanent residence.
Lynn (not her real name) came to Canada in 2010 as a restaurant and bakery manager in Ontario under the Temporary Foreign Workers Program. Her contract in Ontario, and later in Alberta were both prematurely ended. While waiting for a new work permit from the government, she got pregnant and gave birth to her daughter in September 2015. By this time, she lost her status and her health coverage had expired. Lynn stressed, "We do not want to be a burden to the Canadian economy. We were once part of the active members of the Canadian society who worked diligently, contributed to the economy, paid all taxes and hoped to eventually get our permanent residence. We have worked night and day to show our utmost desire to eventually be part of the Canadian society."
Edward, another undocumented TFW, lost his status in 2017 and has been working secretly since. Anecdotal figures pegged the numbers of undocumented migrants in Alberta at approximately 70,000.
"In this time of pandemic, all we ask for is for the Province of Alberta to be inclusive of everyone needing health care," said Vanesa Ortiz, an advocate from the Mexican Association of Calgary, adding that since these undocumented migrants are excluded from the financial assistance from the federal government, their desperate desire to continue working in time of pandemic for their daily survival makes them more vulnerable to contract the disease.
A registered nurse in Calgary, Martin Gatan warned that "we do not want what is happening in the United States right now," citing reports that the Trump administration policies discourage immigrants from coming forward, which could hamper efforts to contain the epidemic.
The provinces of BC, Ontario and Quebec have already announced they will cover the cost of COVID-19 services for uninsured people who do not meet the criteria of the provinces' respective health care coverages.
Alberta currently has more than 1,700 confirmed cases, more than 800 of which are active cases, that may reach a million infections, with deaths between 500 and 6,600 by the end of August as the province projected "elevated scenario."
"Let us ensure that the safety of Albertans will not be at risk because others are discouraged from seeking screening or treatment for COVID-19 for financial reasons," said Ortiz. "This pandemic should not divide us but bring us together, stronger."
Contact Info:
Marco Luciano, Migrante Alberta – 780.966.5908 (Edmonton)
Vanesa Ortiz, Mexican Association of Calgary – 403.612.7396 (Calgary)
LINK TO THE OPEN LETTER TO THE ALBERTA GOVERNMENT
Migrant Solidarity in Times of Crisis
Dear Members, Friends and Allies,
On behalf of Migrante Alberta, I hope you're doing well and staying safe. We're in very difficult and trying times and hope that we can make the best of what the situations allow us. Migrante Alberta has been also swamped with issues, calls and messages about migrants' issues. While we are trying to address individuals' needs locally, we are also part of the Migrant's Rights Network that lobby the Federal government for inclusion of the migrants in the allocation of resources.
Having said that, many of the migrants that are affected here in the province are those that are non-status (or un-documented). They, like many Albertans, have lost their jobs even weeks before the height of this crisis. Meanwhile unlike many Albertans, they do not have any access to resources such as heath-care, financial relieves and limited access to food banks etc.
I am writing you to seek financial assistance for them. Money collected will be used to purchase grocery cards that they can use and to help subsidize their medical needs (They have to pay a doctor since they do not have health cards).
You may send money through e-mail transfer to migrantealberta@gmail.com.
Migrante's work continues. The health and safety of non-status migrants are the health and safety of all Albertans. They should not be left behind.
We will all get through this by following the hygiene recommendations of health workers and scientists, physical distancing and global solidarity. Thank you for your continuous support.
In Solidarity,
Marco Luciano
Director, Migrante Alberta
If you have any questions or know of a non-status migrant that needed assistance, please do not hesitate to email or contact us at our FB page. Please forward to those that might want to support. Thank you.
ALHI's theme page on Temporary Foreign Workers can be found here.