By Jason Foster
Interviews from people in the Meatpacking Industry
With its vast grasslands and thriving cattle ranches Alberta has long been the centre of Canada's meatpacking industry. From the province's first plant in 1890 to Edmonton's thriving Packingtown in the 1950s to today's massive industrial plants in High River and Brooks producing 70% of Canada's beef products, meatpacking has been an important source of employment and economic activity. And where there are meatpacking plants there are meatpacking workers fighting for their rights. Given that meatpacking is dangerous, physically demanding and fast-paced work there are good reasons for meatpacking workers to fight.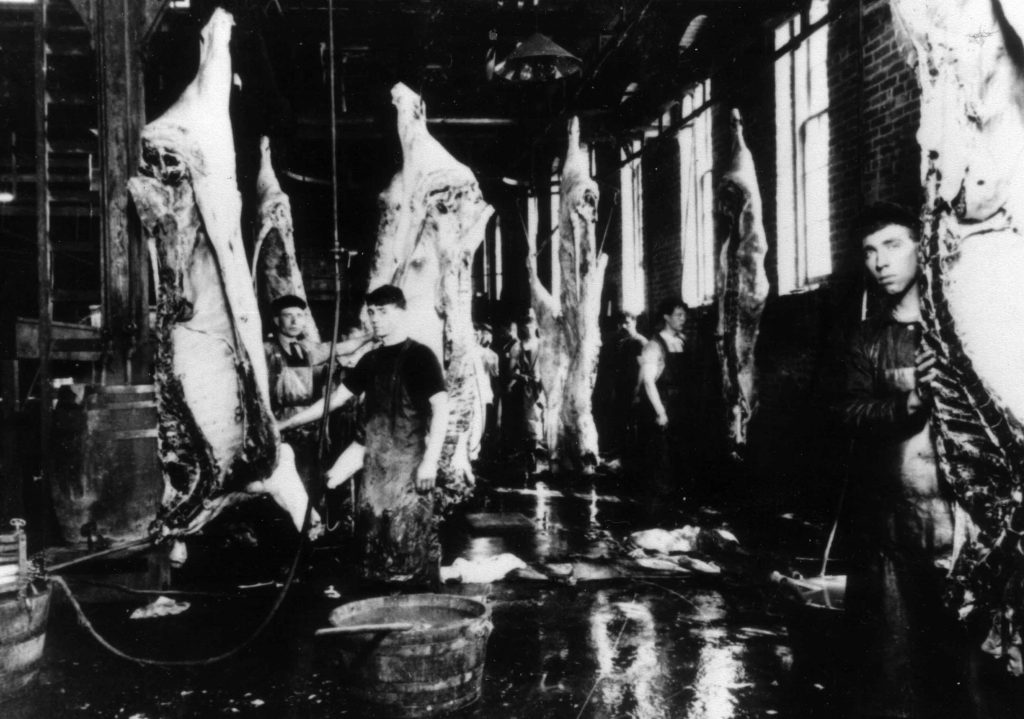 A number of plants opened in Edmonton and Calgary in the first decade of the 1900s. Early attempts at unionization were not successful. Workers at Burns Meats in Calgary went on a failed strike in 1920 for union recognition. In 1937 workers at three Edmonton plants staged sitdown strikes to win recognition but these also failed after employers shifted production to other plants, brought in strikebreakers to assault striking workers and engaged in anti-union rhetoric in the media.
Fortunes changed during World War Two when the United Packinghouse Workers of America (UPWA) entered the fray. The UPWA emerged in the United States in the 1930s and experienced quick success at organizing meatpacking workers. They came north to Canada in 1943 and launched a nationwide organizing campaign, quickly garnering support of workers in the Alberta plants. With the presence of the UPWA, meatpacking workers were able to finally make gains. An illegal nationwide strike in 1947 led to the establishment of industry-wide pattern bargaining, where all large packing companies agreed to the same deal, standardizing wages across companies and taking wages "out of competition". The UPWA eventually merged with other related unions and their locals became part of the United Food and Commercial Workers (UFCW) in 1979.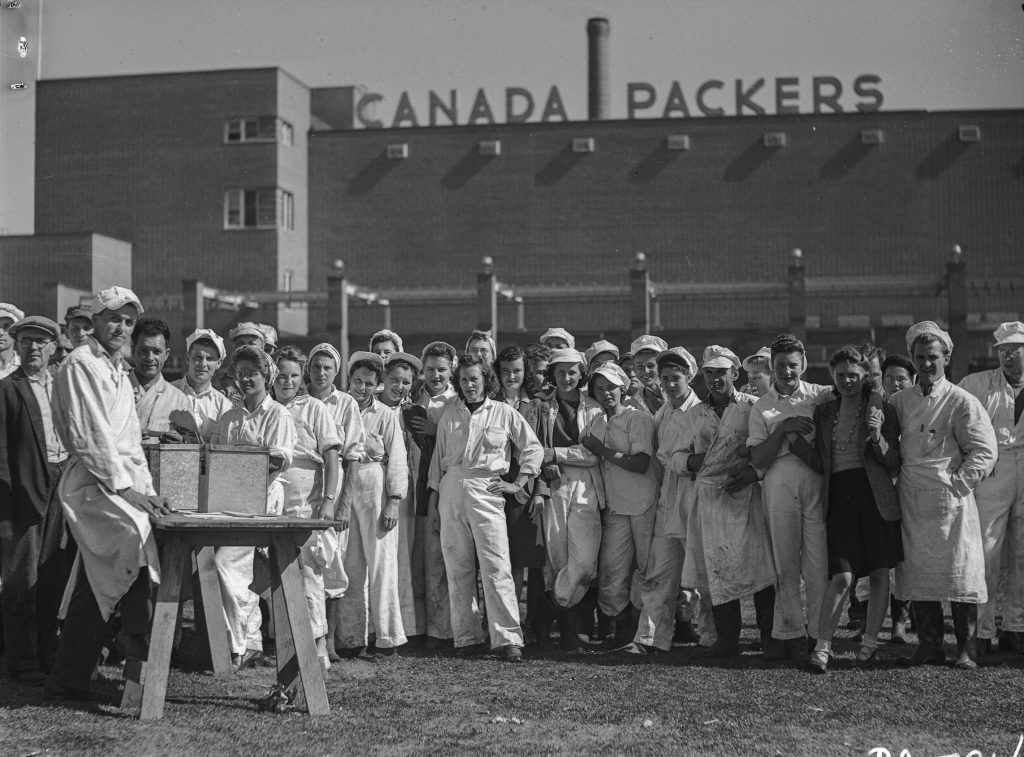 Due to strong union presence and pattern bargaining in the post-war period meatpacking became a relatively well-paid occupation. The work remained demanding and difficult, but meatpacking workers could reliably count on it as a stable job that put food on the table. It also became a job dominated by white men and meatpacking plants were often hostile environments for women and immigrant workers.
This period of relative prosperity began to close in the 1970s when the U.S. meat industry restructured. In what is called the "IBP revolution" (named after Iowa Beef Processors who pioneered the strategy) companies began relocating plants to rural areas, implementing technology, adopting an assembly line process and seeking out new sources of cheap labour. The strategy deskilled the work and allowed employers to drive down wages and working conditions.
Canadian companies followed suit with an aggressive concession strategy in the early 1980s. Pattern bargaining collapsed in 1984 amidst a series of failed strikes. Workers at the Calgary Burns plant went out on strike to prevent wage rollbacks. The company promptly shuttered the plant. At Lakeside Packers in Brooks the employer utilized replacement workers earning 30% less than union workers to fend off a gruelling 44-month strike which ended with the decertification of the union. At Gainers in Edmonton, workers took significant rollbacks in the face of threats to bring in replacement workers.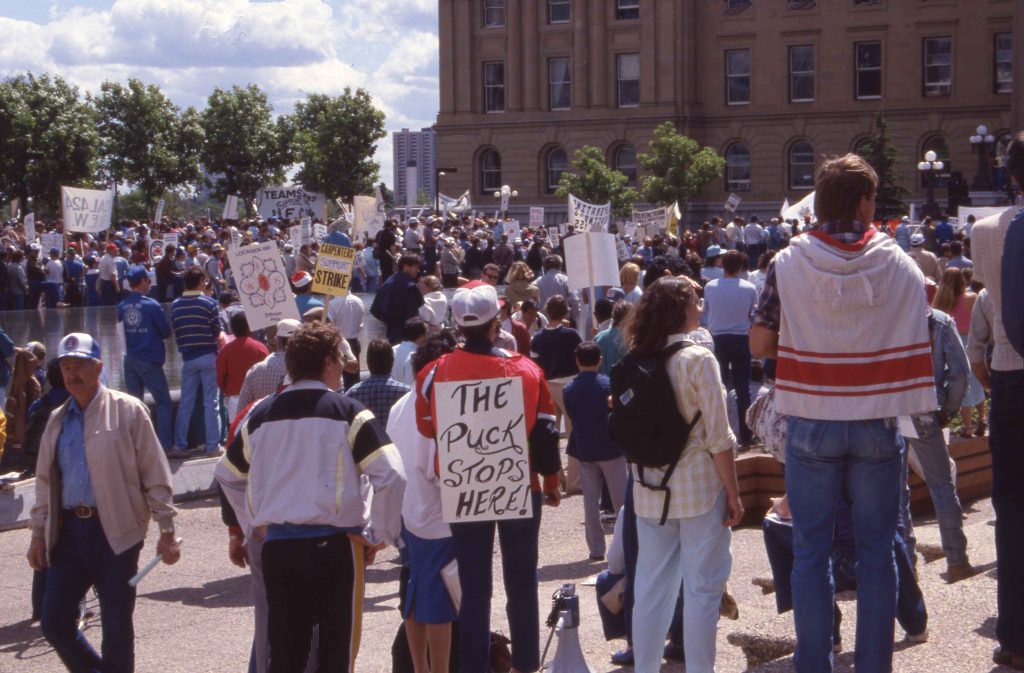 The battle would wage for a few more years. In June 1986 after being asked for more concessions, Gainers workers went on strike. They were met with a response never seen in their lives. Gainers' owner, Peter Pocklington, had hired U.S. union busting consultants and he waged a six-month battle against the strikers, bringing in replacement workers and vowing to never settle with the strikers. The bussing of replacement workers led to frequent skirmishes and violence on the picket line. After more than six months, the strike finally ended with a settlement. In 1988, workers at Fletchers' Foods in Red Deer experienced their own union busting attempt in an eight-month lockout, after having a won a brief strike in 1986.
The meatpacking companies also closed urban plants through the 1990s. Cargill build a massive beef processing plant in High River just south of Calgary in 1990. UFCW 1118, who represented Fletcher's workers in Red Deer, were able to successfully organize the Cargill workers shortly after – a rare victory for the time. Lakeside Packers tripled in size during this time. UFCW 401, who had inherited the organizing rights to decertified plant through mergers, made multiple attempts through the 1990s and early 2000s to re-certify the workers at the plant without success.
The face of meatpacking workers changed dramatically during this period. Increasingly employers were employing recent immigrants from parts of Africa and Central and South America and later turned to temporary foreign workers (TFWs) to meet their labour needs. These newcomers proved to be central in turning the tide at Lakeside in 2005. A wildcat strike by a group of 200 mostly Sudanese workers led to a new organizing drive. A 24-day strike marked by violence due to employer efforts to bus replacement workers through the picket line was successful in getting the workers at this anti-union plant a first contract.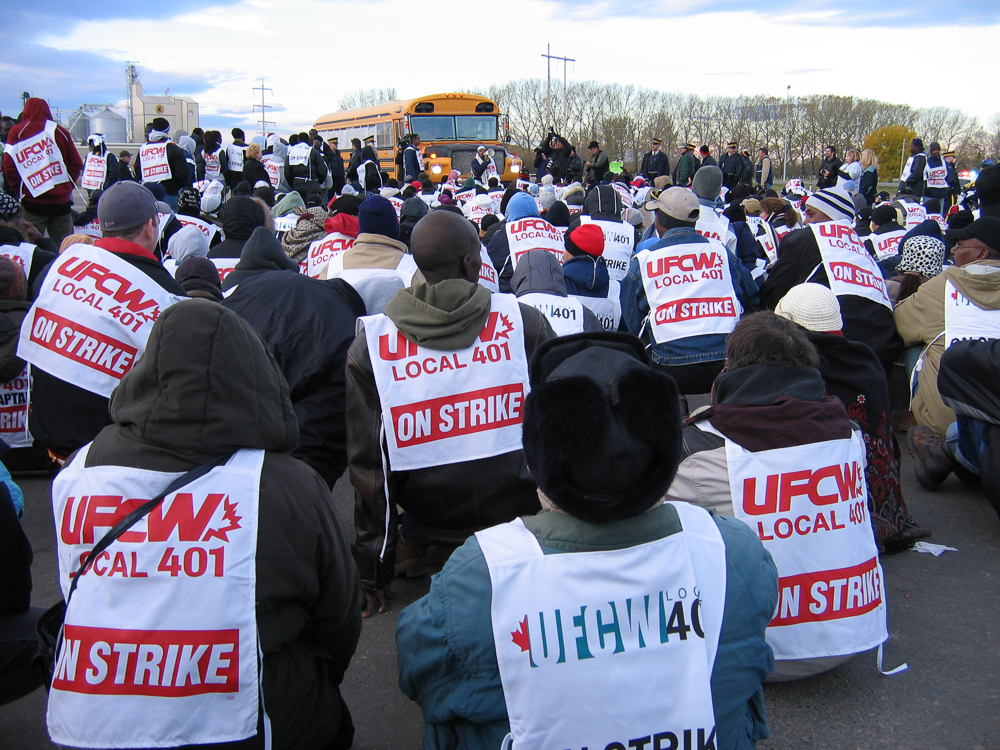 The COVID-19 pandemic revealed the ongoing concerns about working conditions in Alberta meatpacking plants. In April 2020, an outbreak at High River Cargill led to 1,500 cases, including three worker deaths. At the same time 650 Lakeside (now called JBS) workers contracted the disease with one death. By using their right to refuse and staging protests workers were able to force both companies to take more stringent safety measures.
Meatpacking today continues to be physically demanding, fast-paced and dangerous. The assembly-line organization has de-skilled the work and employer tactics have driven down wages. Starting wages are just above minimum wage, nearly half the rate in the early 1980s. The workers have added layers of vulnerability due to racialization and, for many, their temporary residency status. Yet, meatpacking workers continue to struggle for better working conditions.
Interviews from people in the Meatpacking Industry
Myrna Kostash has written about her grandfather's life and work in the Edmonton packing plants. Read it here.
Maria Dunn has written a new song about the COVID related deaths in Alberta's Meatpacking plants. Listen to it here.
Read ALHI's pamphlet: On the Line: Struggles of Alberta's Packing Plant Workers
Watch ALHI's documentary videos: Unionize to Survive. Alberta's Summer of '86. Lakeside Packers: the Organizing Drive. Lakeside Packers: the 2005 Strike.
See also: Meatpacking Unions in Alberta; Temporary Foreign Workers
Photos by Mike Tulley of the Gainers strike in 1986.
Summer of '86 Commemoration workshops held by ALHI in 2016
Visit: Packingtown Edmonton