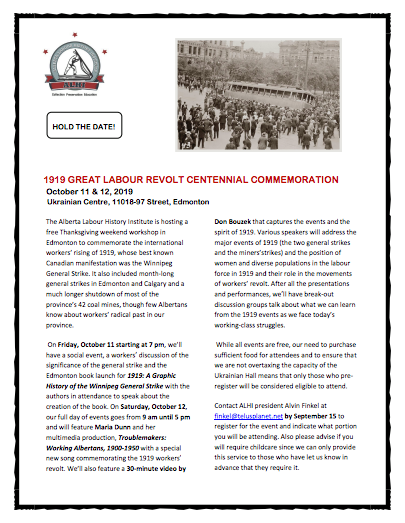 HOLD THE DATE! 1919 GREAT LABOUR REVOLT CENTENNIAL COMMEMORATION, October 11 and 12, 2019, Ukrainian Centre, 11018-97 Street, Edmonton
The Alberta Labour History Institute is hosting a free Thanksgiving weekend workshop in Edmonton to commemorate the international workers' rising of 1919, whose best known Canadian manifestation was the Winnipeg General Strike. It also included month-long general strikes in Edmonton and Calgary and a much longer shutdown of most of the province's 42 coal mines, though few Albertans know about workers' radical past in our province.
On Friday, October 11 at 7 pm, we'll have a social event, a workers' discussion of the significance to them of the general strike, and the Edmonton book launch for 1919: A Graphic History of the Winnipeg General Strike with the authors in attendance to speak about the creation of the book. On October 12, our full day of events will feature Maria Dunn and her multimedia production, Troublemakers: Working Albertans, 1900-1950 with a special new song commemorating the 1919 workers' revolt. We'll also feature a 30-minute video by Don Bouzek that captures the events and the spirit of 1919. Various speakers will address the major events of 1919 (the two general strikes and the miners' strikes) and the position of women and diverse populations in the labour force in 1919 and their role in the movements of workers' revolt. After all the presentations and performances, we'll have break-out discussion groups talk about what we can learn from the 1919 events as we face today's working-class struggles.
While all events are free, our need to purchase sufficient food for attendees and to ensure that we are not overtaxing the capacity of the Ukrainian Hall means that only those who pre-register will be considered eligible to attend. Also please indicate if you will require daycare since we can only provide childcare for those who have let us know in advance that they require it. Just write to ALHI president Alvin Finkel at finkel@telusplanet.net to indicate that you plan to attend and whether you will be present on both October 11 and 12 or just one or the other.
Please pass this message on to all your friends and fellow workers via e-mail, social media, or word of mouth.
In solidarity,
Alvin Finkel,
President,
Alberta Labour History Institute