The Red Deer & District Labour Council is encouraging all affiliates, members and friends to attend the Celebration of its 60th Anniversary which will take place this year in mid-October. The Council is planning to mark this occasion by unveiling a large stainless steel Disc commemorating the history of labour in the Red Deer area, a Project that took six years of dedicated work.
DATE: Friday, October 19, 2018
TIME: 1:00 pm
LOCATION: 5002 – 55 Street, Red Deer, AB
The Unveiling Ceremony will take place in the newly-created Waskasoo Park, North of the Elements building, and just east of the walking trail leading to the South end of the CPR pedestrian bridge. There will be speakers and a ribbon cutting, followed by cake and refreshments. Please RSVP at rddlc1@gmail.com
The Red Deer Labour Disc Project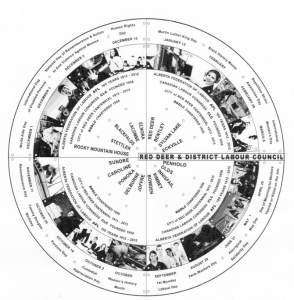 was conceived six years ago by the Red Deer & District Labour Council as its contribution to 'Project 2012' a joint initiative with the Alberta Labour History Institute (ALHI) to celebrate the Centennial of the Alberta Federation of Labour (AFL). Labour activists in Red Deer decided to mount a highly-visible piece of art in their downtown to serve for generations to come as a reminder of the work their members do to serve Red Deer and surrounding area.
The Council commissioned a large stainless steel disc, approximately 3 metres (10') in diameter, together with a plaque that would explain the Disc's significance and recognize all its donors. In addition to canvassing local unions for funding, ALHI applied for and received over $30,000 from the Alberta Culture's Community Initiatives Project (CIP). After a number of setbacks, work on the disc was finally completed this year, just in time for the Anniversary Celebration.
For information:
Karen Reay, Red Deer & District Labour Council – (403) 347-8063