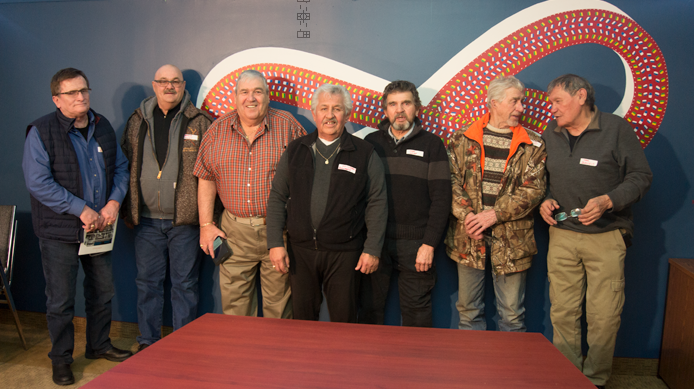 Interviews with people for Indigenous Labour in Alberta
Indigenous people are largely absent from current presentations of the work history in Alberta. That contributes to stereotypes that work against reconciliation of the rest of society with the descendants of our first peoples. We know that Indigenous peoples have contributed both in unique ways and in unity with others to building communities in Alberta and we need to both celebrate and explore their work stories, led by them but with active collaboration with the labour movement.
The Alberta Labour History Institute (ALHI) has been collecting and disseminating working-class history since 1999, always with a focus on oral histories. While we have tried to be inclusive of all elements of society in our gathering in of workers' stories, we have only touched the surface in tracing the stories of Indigenous workers and in relating their work experiences to the larger history of Indigenous peoples in Alberta.
In the fall of 2016, ALHI contracted with Catherine C. Cole to produce a research plan for a project to explore the history of Indigenous workers in Alberta: occupations, prejudice and discrimination, employment programs, inclusion, etc. and how ALHI might create a collection of oral histories with Indigenous workers.
Our project will start with an Indigenous concept of labour rather than a Western/European concept and include a broad spectrum of Indigenous labour experiences. We have established a steering committee for the project of elders, historians, and cultural experts, which will set a protocol for interviews, review a proposed list of questions, and determine interviewees and interviewers, including deciding whether the interviewer needs to be Indigenous or not. To begin work on this project, we have hired Trevor Stace as a project coordinator, who will identify potential interviewers and interviewees for future recordings.
While this project develops, we have taken the initial step of posting video clips and transcripts for the First Nations and Métis interviews currently in the ALHI collection.
Interviews with people for Indigenous Labour in Alberta
HOW INDIGENOUS WOMEN AND MEN EXPERIENCE THE OIL INDUSTRY IN ALBERTA
This important study from the Parkland Institute was prepared by sociologist Dr. Angele Alook, a labour relations officer with AUPE and an instructor at Concordia University College who teaches Public Health and Labour Market Disadvantage as well as Public Health and Socially Marginalized Populations. Angele also serves on ALHI's Indigenous Labour History Committee.
WALTZING WITH THE ANGELS
A short ALHI documentary video where Métis Ironworkers describe building Edmonton's CN Tower.