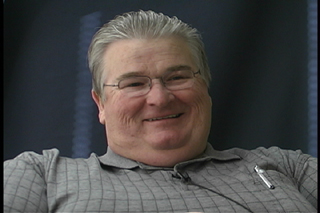 1953-2019
The following tribute to Doug O'Halloran was written by Alberta Federation of Labour president Gil McGowan just after his death and posted on Facebook. ALHI is reprinting Gil's remarks with his permission.
—————–
Today we officially say good-bye to my friend, colleague, and mentor, Doug O'Halloran, long-time president of one of Alberta's most important unions, UFCW 401.
With Doug's passing, we have lost a titan of the Alberta labour movement. Doug's life and leadership was inextricably intertwined with the labour and political history of our province. More than any other Alberta union leader in recent memory, Doug and his tenacious team of activists brought the benefits of union membership to the people who needed it most: working Albertans who struggled with low wages, sub-standard benefits, and low levels of job security in our province's service sector.
Under Doug's leadership, UFCW 401 was galvanized into a cohesive activist force during the 75-day Safeway strike of 1997. From there, Doug and 401 went on to organize workers at the Shaw Conference Centre and the Palace Casino in Edmonton. In both cases, first collective agreements were won after hard-fought strikes that showcased both Doug's creativity (he won the Shaw agreement by showing that the union could shut down Grey Cup festivities in Edmonton) and his unshakeable determination (he won the Palace agreement by simply refusing to give up on a group of workers who had put their faith in him).
Doug also presided over UFCW 401's move into the oilsands, where he negotiated contracts for thousands of people who operated the work camps that sprung up north of Fort McMurray, during the oilsands boom.
One of Doug's greatest victories came in the unlikeliest of places—Brooks, Alberta. It was there, in one of the most deeply conservative pockets of a conservative province, that Doug waged a 20-year battle to bring workplace justice to the often vulnerable, bullied, and oppressed workforce at the Lakeside Meat Packing plant. With Doug's support and encouragement, the workers at that plant endured threats, violence, and a long strike to win a collective agreement that brought them dignity and respect that had been denied to them for far too long.
In addition to Doug's many organizing successes, he also had notable impacts in other arenas. For example, Doug led UFCW 401 to victories at the Supreme Court of Canada—victories that expanded rights for all Canadian workers in areas like secondary picketing and public communication during strikes.
Finally, any discussion of Doug's legacy would not be complete without mentioning the impact he had on Alberta's political stage. As a result of his work in lunchrooms, boardrooms, union halls, and picket lines, Doug understood that working people would always have the deck stacked against them as long as employers, and politicians who worked for them, wrote the laws and controlled the political agenda. That's why Doug was always an unapologetic advocate of union political action and a full-throated supporter of the NDP. It is no exaggeration to say that the Notley NDP's breakthrough victory of 2015 would not have been possible without Doug's life-long commitment to keeping the flame of progressive politics burning, even when others didn't see the point.
As the old saying goes, we stand on the shoulders of giants. When it came to politics, Doug was a giant who had very broad shoulders, and he helped build up Alberta's progressive movement so that we could win victories that even he never imagined would be possible. And he did it with a smile (and a seemingly never-ending series of BBQs).
Organizing the unorganized. Negotiating ground-breaking contracts. Making new law that protects the interests of working people from coast to coast to coast. Laying the foundation for the election of the first NDP government in Alberta history. Doug did all of these things. In the end, the clearest and truest thing that can be said about Doug was that he was "supersized." He was a super-sized man, with a super-sized heart and a super-sized personality—who had a super-sized impact on the labour movement, the lives of working people and the course of history in his province. He mentored and inspired many (including me). And he made our province a better place. We will almost certainly never see his like again.
But before we say goodbye to our brother, I want to quote some of his words. In a parting letter to his sisters and brothers in the labour movement he said, "I challenge you all to keep making the changes, and fighting the fights, that make the world better." Today, as a friend of Doug's; as someone who stood shoulder-to-shoulder with him in so many struggles; and on behalf of the Alberta labour movement, I commit that we will live up to Doug's example and his legacy…and that we will take up his challenge. Doug never backed down from a fight. And, in his honour, neither will we.