By Winston Gereluk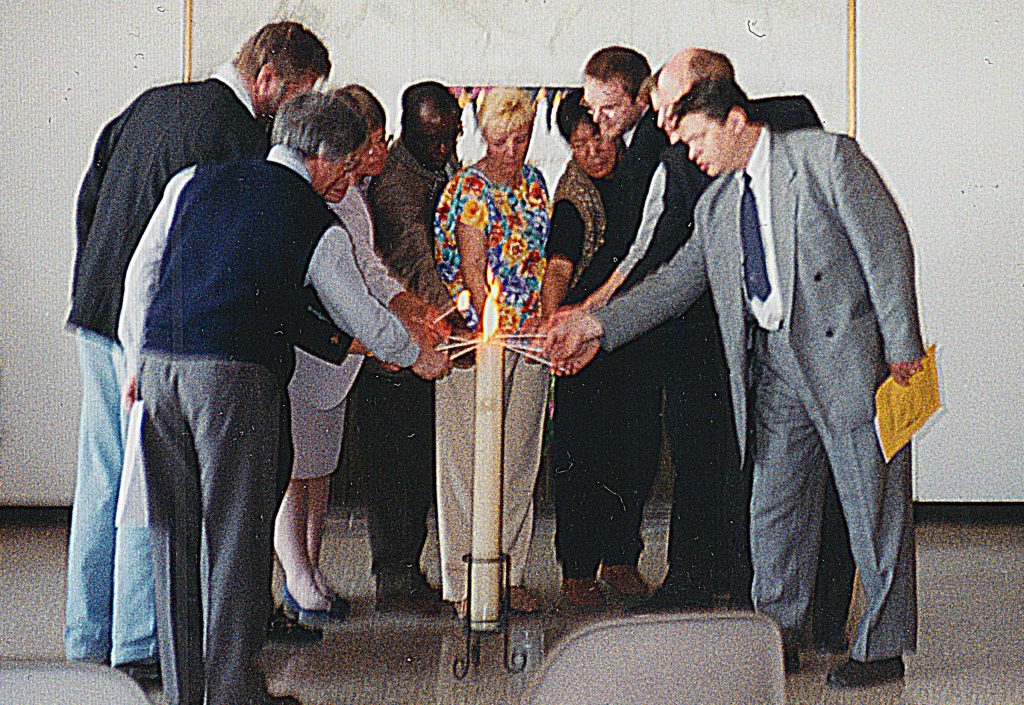 In 1988, over 2500 workers and family members were killed in Bhopal, India, when isocyanates leaked from a pesticide plant. Many thousands more were condemned to permanent, painful disabilities. In 1993, the Kader toy factory fire in Thailand killed 189 workers and injured 469 more, while the Zhili toy factory fire in Shenzen, China killed 87 and injured 47. The Westray mine disaster in Pictou County, Nova Scotia, in 1992, left 26 miners dead.
Such disasters speak to the daily reality of workers' lives and the constant danger of losing one's life or health because profits and productivity are prioritized over workers' wellbeing. In the current pandemic, for example, thousands of frontline workers in healthcare and long-term care facilities, meatpacking plants, delivery services, and retail outlets were compelled to put their health and safety – and even their lives – on the line, by going to work every day in the face of a deadly virus.
Canadian workplaces were becoming less safe even before the pandemic struck. The 1027 deaths at work chronicled in the federal Report on Work Fatality and Injury Rates in Canada for 2018 constituted an increase of 76 from 2017. Injury rates also rose in most jurisdictions, and 360,000 were sufficiently injured to miss work for at least one day. It is estimated that over one million work-related injuries and illnesses are reported annually in Canada.
The initial idea of an annual day of remembrance for workers killed, injured, or disabled on the job, or who suffer from occupational illnesses came from the northern Ontario mining community of Sudbury. Trade union action resulted in Ontario inaugurating an annual Day of Mourning in 1984. It was fixed on April 28 to commemorate the day in 1914 when the Ontario legislature passed Canada's first comprehensive Workers' Compensation Act after an extended labour movement campaign.
Health and safety activists across Canada maintained pressure on the Canadian government to implement a national day of recognition, with several Alberta-based activists leading the campaign. They included Dennis Malayko (Alberta Union of Provincial Employees), Janet Bertinuson and Ray Sentes (Alberta Federation of Labour), Bill Spring (Asbestos Workers), and Bob Zorniak (United Steelworkers of America). They were joined by Colin Lambert (Canadian Union of Public Employees) and several other union staffers across the country.
Their efforts led the Canadian Labour Congress to declare a National Day of Mourning for workers killed, injured, or suffering from work-related disease. The Day was also intended to recognize Canadians' concern for occupational health and safety. Ever since, observances of the Day of Mourning have become widespread in Canada, led by unions and labour councils, but often with the participation of municipalities, social action groups, and other non-government organizations. In 1987 a national monument to workers killed or injured on the job was erected in Ottawa's Vincent Massey Park.
In 2012, Edmonton's Labour Council unveiled a monument to Alberta's Broken Families in Grant Notley Park, named after the Alberta NDP leader who died in a plane crash in 1984. Made of stainless steel, granite, and concrete, the obelisk stands 14 feet tall and 10 feet wide at the base. On each of the four sides, a family is seen, cast in bronze – but with one family member missing, a worker who went to work, but didn't come home. Previous to this, a Workers' Memorial was erected in Calgary through the efforts of their Labour Council. It stands at Edward Park Place, on the SE corner of City Hall at 9th Avenue and Macleod Trail SE.
National union organizations in other countries followed the CLC's lead. In the United States, a Workers' Memorial Day was established in 1989 by the AFL-CIO. Today, working people around the world pause on April 28 to remember lost co-workers, friends, and family while renewing their commitment to safer workplaces under the slogan "fight for the living, mourn for the dead."
The Day first received official recognition on December 28, 1990, when the Canadian government passed the Workers Mourning Day Act, which established April 28 as the official day observed annually to commemorate workers injured on the job, killed, disabled, or suffering from occupational illnesses. Since April 1991, the National Day of Mourning has been marked by various events across the country.
Canadian activists were instrumental in persuading governments globally to follow suit. Figures compiled by the International Confederation of Free Trade Unions (ICFTU), where Albertan Lucien Royer served as health, safety, and sustainable development officer, estimated that 1.2 million workers were killed on the job each year, about a third from injury, a third from disease, and another third unaccounted for.
On April 28, 1996, a group of trade union delegates attending the annual Conference of the Commission on Sustainable Development (CSD) at the United Nations in New York held a candle-lighting ceremony to launch a campaign to have the Day recognized internationally. The delegation, led by Royer, included several other delegates from Alberta. Two were from the Alberta Union of Provincial Employees; Carol Anne Dean, President and Dennis Malayko, Health & Safety Officer.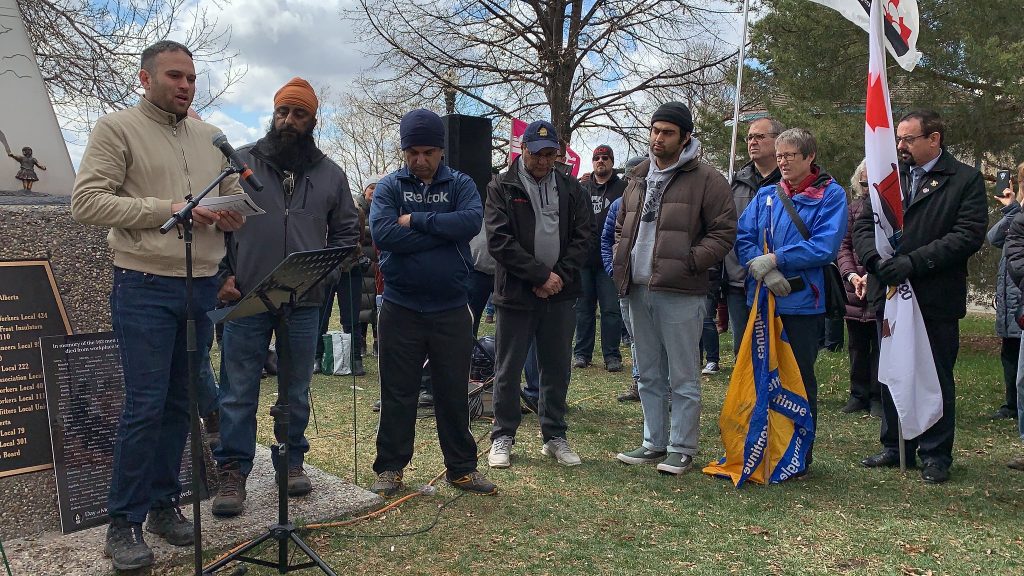 The International Workers' Memorial Day was inaugurated that day under the flag of the ICFTU, now the International Trade Union Confederation (ITUC). Annual themes were chosen by ITUC; in 2006, for example, it was Union workplaces: safer workplaces, focusing on a global ban on asbestos and increased awareness of HIV/AIDS. The International Labour Organization was next, recognizing Workers' Memorial Day and declaring it World Day for Safety and Health at Work in 2001. In 2002, the ILO proclaimed April 28 an official Day in the United Nations system.
Workers' Memorial Day was celebrated as National Workers' Memorial Day in many countries with an initial list including Australia, Argentina, Belgium, Bermuda, Brazil, Canada, Dominican Republic, Gibraltar, Ireland, Luxembourg, Panama, Peru, Portugal, Spain, Thailand, Taiwan, United States, and the United Kingdom. Since 2002, the governments of several other countries have also officially recognized the Day.
As part of its celebration of April 28, the ITUC is pursuing an international campaign to make corporations and their executives criminally liable for deaths in the workplaces for which they are responsible. Building on success in the UK and Australia, Canada has been an important contributor to this campaign, with the prospects for a Corporate Killing Bill now gaining strength.
On April 28, 2021, labour councils across Alberta will once again hold ceremonies to remember workers killed or injured on the job, as they have been doing since the 1980's. Because of the ongoing pandemic, these will be virtual Webinars. Watch this page for news about ceremonies in your area.
---
ALHI ACTIVISTS AND THE INTERNATIONALIZATION OF THE DAY OF MOURNING
ALHI is proud to note that two of our activists played a role in the campaign to make the Day of Mourning an international event. Winston Gereluk, a founding member of ALHI who remains one of our keenest activists to this day, was the representative for Public Services International at the annual meetings of the UN Commission on Sustainable Development in New York from 1995 to 2009. Working with Edmontonian Lucien Royer, then in the employ of the ICFTU, Winston encouraged trade unionists from around the world to attend those meetings. At the 1996 meeting, the Canadian delegation held a candle-lighting ceremony to launch a campaign to have the Day recognized internationally. Winston was part of that delegation, while Judy Lederer, also an ALHI activist, assisted with the work of the delegation. Afterwards, Lucien and Winston worked to encourage the unionists who had attended the UN meeting to have their movements and where possible their governments recognize the World Day for Safety and Health at Work, the name that was chosen by the United Nations in 2002.
-Alvin Finkel, ALHI President